Convenience Stores
We are central Wisconsin's largest family-owned convenience store with four locations in Marshfield, two in Wisconsin Rapids, one in Nekoosa, and one in Stratford. With
three generations of experience
, the Baltus family has made a tradition of providing our customers with quality products and a friendly, knowledgeable staff.
We are much more than just a gas station; our stores are modern convenience stores that stock: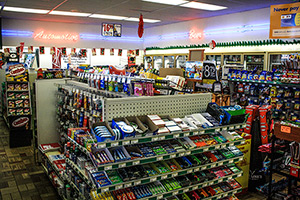 Food and Snacks
: Bread, Butter, Pizza, Lunch Meat, Sandwiches, Hot Dogs - Cooked, Microwave Dinners, Muffins, Donuts, Nachos, French Fries, Breakfast Bars, Cheese Curds, String Cheese, Beef Jerky, Snacks, Candy, Chips, Nuts, Fresh Popcorn, Ice Cream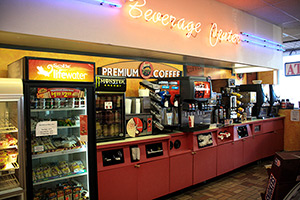 Beverages
: Milk, Juice, Water, Coffee, Flavored Coffee, Cappuccino, Fountain Drinks, Flavored Ice Drinks, Beer, Liquor, Soda, Energy Drinks, Bagged Ice
Nicotine
: Cigarettes, Cigars, Pipe Tobacco, Electronic Cigarettes, Chew
Automotive Parts & Accessories
: Fuses, Oils, Lights, Windshield Washer Fluid, Wiper Blades, Electrical Tape, Octane Boost, Gas Treatment, Injector Cleaner, WD-40, Sea Foam, Gas Tanks, Jumper Cables, Windshield Scrapers, Sidewalk Salt, Light Bulbs, and More
Gasoline & Fuel
: E85, Octane Free 91 Octane, LP Tank Exchange, Diesel, Kerosene, and Firewood. View our
chart below
to see which stores offer each fuel type.
Basic Office Supplies
: Paper, Pens, Envelopes, Scissors, and More
First Aid Supplies
: Pain Relievers, Anti-Diarrheal, Heart Burn, Decongestants, Bandages, and More
Baking Ingredients
: Flour, Sugar, Eggs, and More
Animal Food
: Dog, Cat, and Bird Food and Supplies, and Much More
Other
: Lottery Tickets, Newspapers, Shoppers Guides, Magazines, Greeting Cards, Maps, Phone Cards, Sunglasses, Batteries
Services Include
: ATM, Deer and Turkey Registration, DMV Vehicle Registration, Check-Free Bill Pay, and Money Orders